"I'm in the twilight of my life," 98-year-old Arthur Popehn said to me.
I was at his house last Wednesday, interviewing the man about being a boy in 1920s Minneapolis. Then after sharing about his war years, career, and vast travel experience, he offered some life wisdom for us younger folk.
"I ask myself, 'Is this something that will contribute to the world?'" he said in explaining how he decides his activity these days.
Though healthy, Arthur's age dissuades ignorance of his mortality. So he focuses on tying up loose ends and best situating his dependents for when he leaves Earth. He knows he will die, and likely within a relatively short period of time.
Others like my grandfathers (82 and 85 years old) are having to reckon with this reality in harsher ways. Their ailing physiology and mental states require canes and reminders. They're well aware of the implications. What I wondered as I spent time with each this past weekend was: How can I help during–or what can I learn from–their life's twilight?
The obvious is to absorb their wisdom, appreciate the remaining years I can spend with them, and then be there in their difficulty. But this last task is heavy–hearing their struggles just getting dressed, listening to them repeat their story, and seeing a person you love have their body giving out.
And after visiting, how do you say goodbye?
"Well, take care, Grandpa!"
As we drove away from one of these weekend visits, I asked my brother how one should approach such a situation. Seeing my grandfathers' struggle as an ending (and me wanting to avoid this scary truth), my knee-jerk response was to try and paint a "rosy" picture– "At least they still are able to live independently." But I wiped away that tint and instead considered the bigger picture by asking myself, "Why not regard these difficult changes to your grandfathers as transitions rather than ends?
I said to my brother that perhaps each bodily ailment is like packing up a different room in the house, preparing for your move to the next destination.
Foreseeing this, Arthur wants to make sure all his arrangements are made, to enable as smooth a move as possible. For my grandfathers, I'm not sure what–if any–role I can play as they prepare themselves. But I know I best avail myself by not avoiding this reality. And I best do this by overcoming the fear of death.
I used quotes around the word "rosy" above, because optimism at the expense of truth isn't necessarily a good thing. And the truth is, death doesn't have to be scary. In fact, I've read that to best embrace one's life, one must acknowledge one's mortality. I believe this. And I find it best to do so by broadening one's perspective beyond this life.
Plus, as a friend once asked when recalling his same struggle regarding his elderly father, "What more can we ask than to have a long, full life on Earth?"
---
It wasn't just Arthur I interviewed last week. While in northern Minnesota, I sat down with combat veteran Tom Strassburg, who braved two years patrolling the Mekong River during Vietnam. Firefights with high powered rifles; firefights with Agent Orange. Floating debris bombs to detonate; floating bodies to identify. And yet, when recalling the camaraderie and intensity of those years, he said he wouldn't take them back for anything.
Tom now, holding a picture of Tom then.
​Look for Tom's (as well as 98-year-old Arthur's) interview video in the coming weeks.
---
For your enjoyment today, I have here for you a new video I released last Tuesday.
A couple of months back, a friend told me about this group of black conservatives in the Twin Cities. So a couple of weeks back, I sat in on one of their meetings and then interviewed their founder.
Tired of poverty, chaotic schools, and the bloodshed plaguing black neighborhoods, they believe conservative ideals are sorely needed. So they started their group called The Exodus Movement.
Click on this image to watch:
---
Finally, after last week's Sunday Evening Post dog message, I received an email from friend Ian in China. My former English-teaching colleague wrote:
"About 4 years ago, my dearest friend asked me to take care of a 6 week old puppy temporarily. Now I have a delightful little mostly-papillon approaching 4 years old."
Think you can top Ian's dog shot? I want to see a St. Bernard on someone's shoulders. Haha. Reply with your own pet pics, and I'll share in next week's Sunday Evening Post*.
embrace your week,
-Brandon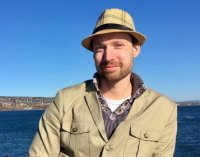 Be A Part of My Mission
Amazon Author Page
*The Sunday Evening Post is a weekly email I send to friends and readers. In them, I share a weekly message, updates on my projects, and reader's responses. To be added to the community, email me at brandon@theperiphery.com or sign up here.