Family, Friends, and Readers:
I've got bad news and great news.
I'm one to get the bad out of the way first , so…  I didn't finish Vietnam combat veteran, Tom's, interview video. BUT this is for two good reasons. #1. It's a biggie. Clocking in at about 90 minutes, this is set to become my largest, most complete and revealing conversation on video. With stories like his, I need every minute of these 90. The draft is ready. So, after graphics, audio, and other finishing touches, I'll have for you next week a product I think you'll enjoy every minute of. From battle action, to the daily life among his crew on his river boat, to the activities in bars when on leave: stay tuned for next week's video: "A Vietnam Combat Veteran Tells All."
Tom then; Tom now
Reason #2 for not having Tom's video ready is actually the big news of this week's post. Remember my article I shared last week about the issue of "printed" firearms in the U.S.? Well, while politicians and other commentators were debating the trees, I was looking at the forest. The Minneapolis newspaper, the Star Tribune, agreed that I was onto something. So on Tuesday–just days after I submitted the story to them–they published my commentary about 3D-printed guns and the bigger issue of modern technology challenging the capabilities of government. AND THEN I received an email Tuesday morning from CTV (Canada's public news channel). A producer asked me to speak on one of their afternoon programs that day about my story. I was nervous. I was excited. And I think I did an okay job:)
Here's a screenshot of the conversation:
And here's the link if you'd like to watch the 3 minute clip: https://www.ctvnews.ca/video?clipId=1451960
What an endorsement of my work! And readers' responses to my Star Tribune article were encouraging as well. So I took all this momentum and made a video version of my thoughts, fleshing out the points of the article and adding images for this story on video. I released it the following day on my YouTube channel, and I consider it my best commentary-style video to date:
Check it out here: https://www.youtube.com/watch?v=_7Rh8KjI5tY
cover image of video
***
Capping off this week's post, here's a heck of a check-in from readers Skip and Trudi. This semi-retired couple are former neighbors of mine and shared with me 18 months ago about their plans for an ambitious trip: boat around the eastern half of the U.S. To do so, they would begin in the Twin Cities and take the Mississippi River to the Gulf of Mexico. Then they'd head up the Atlantic Ocean, along the east coast. And once reaching New England, they will take rivers and Great Lakes back inland to the Midwest.
Trudi and Skip
It's one thing to mull it over; it's another to set off. And set off is what Skip and Trudi have done! AND they're updating their adventure on their blog, where they currently have several articles and photos from their journey down the Mississippi. Thanks, you two, for sharing your adventure:)
If you'd like to share your adventure on the Sunday Evening Post, reply to these emails* any time with your pics and/or stories! 

It was a week where my work found its groove, both in terms of productivity and in reaching more people. I'll keep my nose to the grindstone this week and have a new report (and Tom's video) for you next Sunday.
Until then, and making it a grindstone-to-nose week,
-Brandon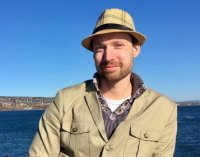 Be A Part of My Mission
Amazon Author Page
*The Sunday Evening Post is a weekly email I send to friends and readers. In them, I share a weekly message, updates on my projects, and reader's responses. To be added to the community, email me at brandon@theperiphery.com or sign up here.